Select your Industry
Click on the arrows to select your industry for appropriate products and news releases for your industry.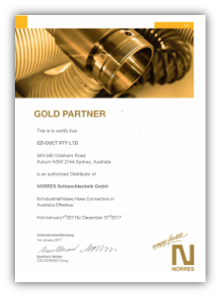 Ezi-Duct has joined the Nederman Group to be part of Nordfab
We are pleased to announce the sale of the Ezi-Duct Pty Ltd business to a subsidiary of Nederman Holdings AB. The transaction completed on 28 April 2022. From this date Ezi-Duct will trade as Nordfab Pty Ltd.
The purchase of the business by Nederman will provide customers with an international operation that can provide your clean air needs. The founder of Ezi-Duct, Mr. Wayne Dockrill, will remain with the business as a consultant, whilst the remainder of the Nordfab Pty Ltd management team remain in place – it is business as usual.
As the transaction has now completed, new procedures apply to sales, payment and service from the Nordfab Pty Ltd business. All our customers will receive a written notification containing this new information.
Any queries you have in relation to Nordfab Pty Ltd sales, service or maintenance should be directed to your existing contact by simply calling them on 1800 673828.
Thank you again for your ongoing support and commitment to the business and we look forward to working with you going forward.
Mr. Wayne Dockrill Founder, Ezi-Duct
Click here to read press releases
For further information or media contact, please contact:
Jeppe Rasmussen Senior Vice President, Nederman Head of Division Duct & Filter Technology
---
Now in our 21st year with thousands of happy customers, Ezi-Duct is Australia's leading and largest company in the field of dust collection and fume extraction equipment.
Ezi-Duct is 100% Australian owned and operated but operates globally. We currently provide our products to the following regions - Australia/Pacific, USA, Asia and Africa.
Ezi-Duct is a proud Australian manufacturer, producing the majority of it's products in it's own sheet metal factories in our Melbourne, Sydney and Brisbane branches.
Ezi-Duct Dust Collection & Fume Extraction products have been engineered & designed in Australia by a 100% Australian team with decades of industry experience.
They are designed to meet Australia's strict OHS and clean air / environmental regulations.
Contact us today for free advise on the best and most economical solution to your organisation's requirements.
You can breathe easy when dealing with Ezi-Duct
Mission Statement
We will provide our customers with the best performing, energy efficient and value for money dust collection and fume extraction equipment on the world market.
We strive to provide all the Ezi-Duct team members with a stable, happy and rewarding career.
We will ensure our company remains profitable, continues to grow, be charitable in our community and makes the world a cleaner and better place to leave to our children.