PRODUCTS
Fans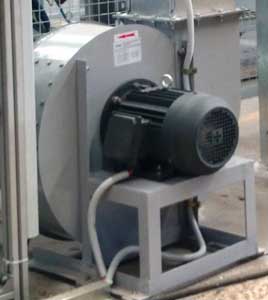 Ezi-Duct stocks and custom builds a large range of industrial, heavy duty Fans suitable for many applications.
Ex-Stock Fan range 0.75 kW, 1.5 kW, 3.0 kW, 4.0 kW, 7.5 kW, 11.0 kW, 15.0 kW 18.5 kW, 22. KW 30.0 kW, 45.0 kW
Fans are also custom built to suit our customers exact requirements. Ezi-Duct Fans are manufactured from mild steel plate then painted. Fans can be hot dipped, galvanised or manufactured from stainless steel on request.
We carry ex stock a large range of industrial quality, high efficiency centrifugal fans.
Fans can also be fitted with flame or explosion proof motors. Please call us with your requirements for a quotation.