PRODUCTS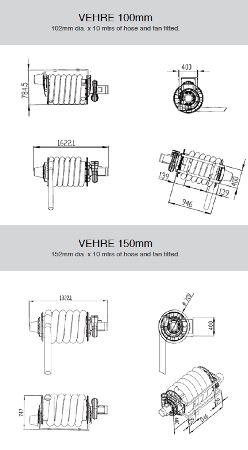 Vehicle Exhaust Hose Reels
The Ezi-Duct Vehicle Exhaust Hose Reels are the best and most practical solution for the removal of harmful engine exhaust fumes from your workshop area.
This ensures no harmful exhaust fumes goes back into your workshops breathable air, greatly improving the air quality for you and your staff.
It's clever design uses a large hose reel designed with a built in electric motor to lower and retract the units 10 mtrs of hose. The unit is simple to operate using the supplied remote control.
The VEHRE has a powerful high efficiency fan providing over 1000 m3/h @ 1000pa of suction. It is powered by an industrial quality 0.75kW CE motor. Alternatively several VEHRE units can be ducted into 1 centralisedfan.
The standard hose fitted to the VEHRE units is a crush resistant hose cable constructed using an EPDM and polyamide helix with a EPDM coated fabric. The wall thickness 0.80 mm approx. It has a Temperature Range for exhaust gas temperatures to 190℃ (220℃ for a short time) when correctly applied with exhaust gas funnels and suficient fresh airsupply 50% approx.
The Ezi-Duct Vehicle Exhaust Hose Reels are available in 2 models fitted wth either 10 mtrs of 102mm dia. or 152 mm dia. hose. Other higher temperature hoses are available for special applications and other size VEHRE can be manufactured.