PRODUCTS
Ezi-Duct & Polex help a large aluminum smelter save costs with their new duct extraction system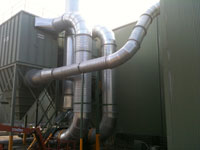 Ezi-Duct manufactured a large amount of large diameter, heavy duty galvanised steel ducting for a industrial dust extraction project . The system was installed,designed & Commissioned by Polex Environmental Engineering for the Western Aluminum plant located in the Hunter Valley of NSW. Polex Environmental Engineering, a company that provides complete engineered Environmental systems to Australia's industry, had Ezi-Duct manufacture heavy duty galvanised steel ducting in 3.0 mm to 1.6 mm galvanised steel material. The ducting was fully welded & joined together with flanges. The steel ducting was up to 1250 mm diameter and included many specialised transitions. It is used for the dust extraction of Aluminum Oxide. Polex Environmental Engineering helped Western Aluminum save costs by refurbishing an old dust collector with new filters & valves & reused whatever existing ductwork that was still serviceable.
Ezi-Duct Pty Ltd is one of Australia's leading suppliers of dust collection, pollution control, fume extraction and pneumatic convening equipment. Ezi-Duct has offices and agents that service all of Australia and can provide helpful free advise to customers who whish to modify ,or design and install a new dust or fume collection system. Ezi-Duct carries a large range of products ex-stock at our Auburn manufacturing plant and warehouse. Ezi-Duct also has an office and warehouse in the Melbourne suburb of Dandenong.
Ezi-Duct also provides the Ezi-Flex product range which is recognised as the highest quality range of flexible ducting on the world market. Manufactured in Germany, Ezi-Flex is constructed from the latest high quality polyurethane composite materials on the latest high tech machinery. The Ezi-Flex product Range is also one the largest available in the world.
Ezi-Duct manufactures its ducting in Australia from Australian steel and supplies a huge range of steel ducting and ducting clamps, in galvanised, stainless steel and mild steel.
Ezi-Duct also provides many other products such as:
The largest range of flexible ducting
Ezi-Arm fume arms & fans
A large range of high quality industrial and commercial fans
Rotary valves in both cast and fabricated types
Dust collectors and filters
A large range of filter cartridges
25 June 2010