PRODUCTS
Ezi-Duct sets up 2nd factory in Dandenong Victoria manufacturing Australia's best Dust Collection &Fume Extraction products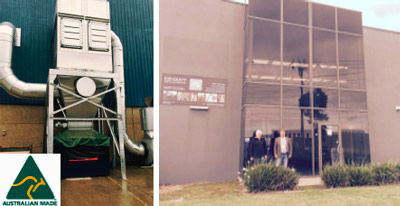 Exciting news for Ezi-Duct's Victorian, Tasmanian & South Australian customers. Ezi-Duct has enjoyed over 17 years of operations in Melbourne as a sales office & stock carrying warehouse. With our customers support & loyalty we have had continual growth over this period. We are now in our 4th building located at 2-4 Kikham Road, Dandenong South & we will be setting up full manufacturing facilities here within the next 2 weeks.
Ezi-Duct's M/D, Wayne Dockrill said "It's a large investment for a local Australian company but we have faith that the manufacturing industry will continue to survive in Victoria, Tasmania and South Australia. Local trades people have been employed for the factory andwe intend to hire apprentices shortly. A lot of the equipment is being purchased from localVictorian businesses. Australian businesses supporting Australian businesses is the onlyway our country will continue to grow, prosper and remain the smart country."
Equipment to be installed includes a CNC plasma cutter with the latest software, CNC brake press and guillotine plus many other specialty machines for building the famous Ezi-Duct range of modular ducting and Dust Collectors & Fume Extractors. We will also be able to do general sheet metal work and specialty hoods and transitions for our customers. This will cut down on customerslead times having to ship products down from our Sydney factory.
Ezi-Duct is Australia's leading supplier of Dust Collection Equipmentthat includes a huge range of Dust Collectors, Fume Extractors, Modular Ducting, Flexible Ducting, Fume Arms, Fans, Spray Booths + much more. We have branches in Melbourne, Sydney & Brisbane that carry a large amount of products ex stock. Ezi-Duct is a proud Australian Manufacturer and can proudly display the Australian Made logo with pride.
August 2015