PRODUCTS
Sydney Kitchen Manufacturer Uses Ezi-Duct For Timber Saw Dust Extraction System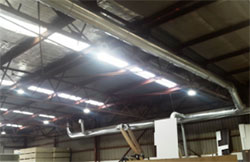 A large Kitchen Manufacturer based in Sydney's South Western Suburbs had an problem with their timber saw dust extraction and they contacted the leader in the industry, Ezi-Duct, for their requirements. Ezi-Duct sent out an experienced team member who designed, supplied and installed the solution to their dust problem. The new Saw Dust Extraction System included Ezi-Duct Modular Ducting and Ezi-Flex Flexible Ducting. The dust collection system was installed by Xtracted - Dust & Fume Services who is an Ezi-Duct contractor and reseller.
The Ezi-Duct Modular Ducting not only provides the best airflow of any ducting on the market it is manufactured from heavy duty galvanized steel construction. The bends are of smooth pressed construction of 1.5 CLR.
Ezi-Duct is a proud Australian manufacture and produces its Ezi-Duct Modular Ducting in Australia in one of Ezi-Ducts 3 factories located in Melbourne, Sydney or Brisbane.
The Ezi-Flex Flexible Ducting is made by Norres of Germany and is the best quality Flexible ducting on the world market. Ezi-Duct is the Gold Partner for Norres Flexible Ducting in Australia and carries a huge range of its Ezi-Flex Flexible Ducting products ex-stock in its 3 branches located in Melbourne, Sydney and Brisbane.
Ezi-Duct is Australia's leader in the field of Dust Collectors & Fume Extraction Equipment and has the largest range on the market that includes, Dust Collectors, Fume Extractors, Spray Booths, Rotary Valves, Vehicle Exhaust Hose Reels and many more.
Ezi-Duct can custom design and build a dust extraction systems to meet our customers specific requirements. Ezi-Duct have many experienced staff backed up by qualified engineers who can visit your factory for free advice on your dust collection requirements.
April 2017