PRODUCTS
Stuart Brown, New Manager for Ezi-Duct Queensland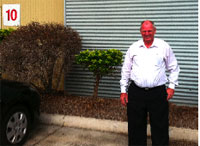 Ezi-Duct has great pleasure in announcing the appointment of Mr Stuart Brown in the position of the manager of Ezi-Duct Queensland. Stuart has more than 20 years Experience Industrial and Technical Sales in Queensland.
Wayne Dockrill, managing Director of Ezi-Duct said, "We are opening our new Queensland Branch located at Coopers Plains on the 1st March 2012 and we are delighted that Stuart is joining our company. Its great he will be there at the start of the new Branch and with his many years of experience in industrial and technical Sales in Queensland he will be a great asset to our organisation." Stuart is taking over from David Waghorn who is now the National Sales Manager of Ezi-Duct.
The branch will stock all of Ezi-Ducts range of Galvanised steel modular ducting, pressed bends, ducting clamps, dampers and all of the other Ezi-Duct ducting components. The Ezi-Arm range of self articulated fume arms will also be carried ex-stock with the full range of industrial quality centrifugal fans that complement the Ezi-Arms.
8 February 2012