PRODUCTS
One of Australia's oldest joinery company Stoddart's Joinery self installs new Dust Collection System.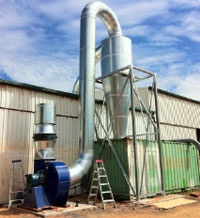 Established in 1878, Stoddart's Joinery must be one of Australia's oldest joinery companies. One of the first jobs the founder James Stoddard undertook was the roof of the historic Mudgee Town Hall. Nowadays Stoddart's Joinery is New South Wales, Central West's premier timber and aluminum joinery, specialising in premium, energy efficient windows and doors.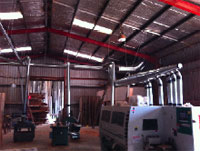 Late last year Stoddart's Joinery purchased a new 6 head molder and Daniel Stoddart, the 5th generation of master craftsmen from the company approached Ezi-Duct to upgrade their dust collection system.
David Waghorn from Ezi-Duct helped Daniel design a new dust collection system supplying them with a High Efficiency Cyclone with a support structure, a Materials Handling Fan with Weather Cowl plus all the galvanised steel modular ductwork and quality Polyurethane Flexible Ducting required to complete the system.
Stoddart's Joinery had previously purchased Ezi-Duct modular ducting for their old system and reused many their old ducting components in the new system eliminating waste. Stoddart's Joinery self installed the system saving them many thousands of dollars.
Daniel and his father Peter Stoddart are very happy with the suction provided and final result.
8 February 2012