PRODUCTS
Large Energy Efficient Dust Extraction System installed in NSW South Coast joinery works.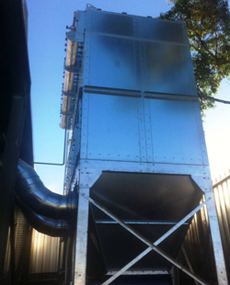 A large south Coast joinery recently installed a Energy Efficient Polex / Ezi-Duct Dust Extraction System. The new Dust Collector produces over 40,000 m3 /h @ 3500 Pa of suction and has 200 filter bags. The filter bags are automatically & continually cleaned with a reverse pulse of clean dry compressed air to ensure the unit is running efficiently all the time.
The Dust Collectors high efficiency fan motor ( 45 kW) is adjusted by a VSD fitted into the units control panel. The VSD tells the 45kW motor when machine is shut off ( using Ezi-Duct Dampers) and the motor will use less power. This equates to huge energy savings.
The Dust Collector drops the waste into 2 x 3 m3 bins via 2 Rotary Valves. The unit does not need to be shut down while the bins are emptied and stop the factory from working. Many machines are connected to the system including 2 x CNC 's, a large wide belt sander, a large edge bander and many smaller machines.
June 2014