PRODUCTS
Ezi-Duct Supplies new Dust Collection System to Melbourne Shop Fitting Company's new factory.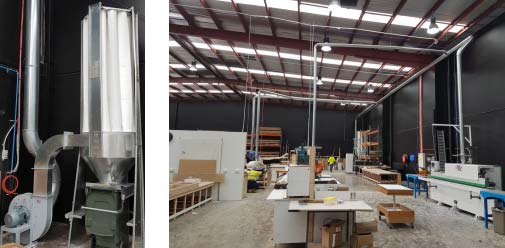 Ezi-Duct's Victorian Branch recently installed a new saw dust collection system to a large Shop Fitting Company's new premises located in Melbourne's South Eastern Suburbs. Ezi-Duct supplied a powerful yet economical & compact eCono 6000C 7.5 kW Dust Collector that deposits the factories saw dust waste directly into a "Wheelie Bin" . This makes disposal of the dust very easy with no heavy lifting required. The eCono 6000C 7.5 kW Dust Collector produces a powerful airflow of over 6000 M3 /h @ over 3000 pa and is supplied with a High Efficiency, heavy duty industrial centrifugal fan fitted with a WEG 7.5 CE motor.
The Ezi-Duct eCono 6000 C is an Australian designed and manufactured Dust Collector and incorporates both a cyclonic action to separate the dust from the air stream combined with 20 top quality filter bags that catches any fine dust that may contaminate the factories breathable air. The dust collectors filter bags are cleaned every time the dust collector unit is switched off. The is eCono 6000C is fitted with a built in vibration motor that switches itself off after it cleans the dust collector's 20 filter bags.
Also supplied was Ezi-Duct Modular Ducting and Ezi-Flex Flexible Ducting. Australian made Ezi-Duct Modular Ducting provides the best airflow on the market with a very smooth bore and pressed smooth bore bends. As Ezi-Duct Modular Ducting simply clamps together it also cuts down installation time by 50% saving customers labour costs. Another benefit is if the customer changes their ducting layout or moves factory the Ezi-Duct Modular Ducting can be easily pulled down and used again. Its also great if a rag or other article get sucked into the duct and blocks the suction. A duct section can easily be removed, cleaned and replaced. Ezi-Flex Flexible Ducting is the best quality flexible ducting on the market manufactured from abrasive resistant polyurethane.
Ezi-Duct is Australia's leader in Dust Collectors & Fume Collection equipment with 3 factories and branches in Melbourne, Sydney and Brisbane. Ezi-Duct is a proud Australian manufacturer and designer of Dust Collectors and other equipment for dust collection and fume extraction. Ezi-Duct has the largest range of dust collection and fume extraction equipment on the market that includes, Dust Collectors, Fume Extractors, Spray Booths, Rotary Valves, Vehicle Exhaust Hose Reels and many more. Customers can ask Ezi-Duct for an experienced Ezi-Duct team member to visit their operation for free advise on their dust or fume extraction problems.
June 2017