PRODUCTS
Ezi-Duct / Polex eCompact Dust Collectors continues to set the standard for schools woodworking rooms dust extraction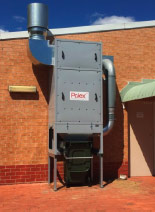 The eCompact (compact dust collector) is a series of small yet powerful and versatile dust collectors that can easily come apart to fit into small plant rooms or can also be put outdoors. The eCompact dust collector has been engineered & designed in Australia by a 100% Australian team with decades of industry experience. The eCompact series is designed to meet Australia's strict OHS and clean air / environmental regulations.
They are a very popular dust collector and are commonly used in high schools and TAFE colleges in the woodworking rooms for the saw dust collection systems. All the eCompact range are fitted with top quality filter bag medium that are automatically cleaned with a vibration (shaker) system every time the unit is switched off. No compressed air to the units are required. This ensures that whenever the dust collector unit is turned on, it is operat-ing at maximum efficiency, saving energy. The automatic cleaning system is controlled by a PLC fitted into a control panel supplied with the unit. The filters are tubular to allow easy dust release during the cleaning cycle that reduces any risk of blockages. The unit's filter bags are snap lock, quick fit / no leakage filter bags manufactured from top quality 550 g/m2 Polyester antistatic needle felt. Waste is deposited either into 1 or 2 steel collection bins or 1 or 2 plastic "wheelie" bins. ( more popular now with OHS lifting restrictions)
All eCompact dust collectors are fitted with a High efficiency fan that produces 40% - 50% more suction for same energy usage. eCompact dust collector units work under negative pressure so no dirty air (wood chips or blocks ) pass through the high efficiency fan. The units are quiet to operate with the high efficiency fan enclosed in acoustic material in the top of the unit. To help prevent corrosion eCompacts are built from heavy duty galvanized steel & powder coated afterwards. They are carried ex stock by Ezi-Duct ready for immediate delivery.
3 models are available with air flows from 3000 m3/h to 9000 m3/h Ezi-Duct is Australia's leader in Dust Collection and Fume Extraction equipment and has factories, warehouses and offices in Brisbane, Sydney and Melbourne. Ezi-Duct works closely with its associated company Polex Environmental Engineering to provide its customers with the best performing and energy efficient equipment at the most economical price.
Jan 2017