PRODUCTS
Ezi-Duct Releases New Range of Roof Ventilators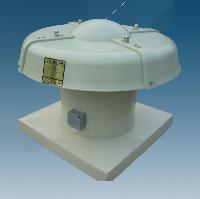 Ezi-Duct Pty Ltd , one of the leading suppliers in Dust Collection, Pollution Control, Fume Extraction and Pneumatic Convening Equipment in Australia has released a new range of Roof Ventilators.
The Axial Flow fans are designed as a permanent fixture, which is mounted on the roof in a factory or warehouse for the extraction or delivery of air.
Wayne Dockrill, M.D. of Ezi -Duct Pty Ltd said "there was a huge demand in the market place for a low cost means to lower the temperature and improve the ventilation in work places. Recognising this need we have released the new Ezi-Duct Roof Ventilator.
"I feel the Ezi-Duct Roof Ventilator is the perfect low cost solution to ventilating & cooling down factories and warehouses."
Ezi-Duct Roof Ventilator is available in many sizes with the 600 mm dia. Unit being the most popular size. The 600 moves a massive 15800 mtr/cub of air per hour @ 230 pa The Ezi-Duct Roof Ventilator is manufactured from lightweight non-corrosive materials.
This will not only make for easy installation but will ensure that the Roof Ventilator will last for a very long time.
The Ezi-Duct Roof Ventilator comes standard with its own weather cowl saving many hundreds of dollars compared to standard axial flow fans.
They are available ex-stock for same or next day delivery in most areas of Australia
27 February 2007