PRODUCTS
Plastic Recycler Uses Ezi-Duct For Fume & Steam Extraction System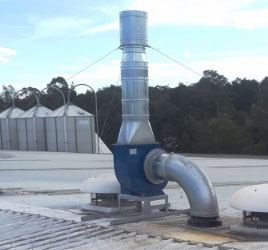 A large Australian plastic recycling based in Sydney's Western Suburbs had an issue with their steam and fume extraction and they contacted Ezi-Duct for the solution.
Ezi-Duct sent out an experienced team member who designed, supplied and had installed the solution to their steam extraction requirements. The steam Extraction System included Ezi-Duct Modular Ducting.
The new steam and fume extraction system was installed by Xtracted - Dust & Fume Services who is an Ezi-Duct contractor and reseller.
The Ezi-Duct Modular Ducting is manufactured from heavy duty galvanized steel construction and the bends are of smooth pressed construction of 1.5 CLR. The Ezi-Duct Modular Ducting not only provides the best airflow of any ducting on the market but has other advantages as well;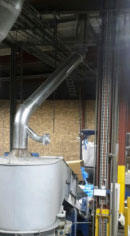 Companies can cut costs considerably as Ezi-Duct Modular Ducting is so simple, quick and easy to install. Installation time is cut down considerably.
Many of Ezi-Ducts customers do the installation in-house, without the need for outside contractors.
Dust collection and pneumatic conveying systems can frequently block up so the advantages for using Ezi-Duct Modular Ducting product is long term. As Ezi-Duct ducting simply clams together, the customer can easily pull the system apart for cleaning if block-age occurs.
If a company relocates premises, changes it's machinery or expands, the ductwork can be disassembled and reuse again and again in different layouts.
Ezi-Duct is celebrating it's 20th year in the industry and is Australia's leader in the field of Dust Collectors & Fume Extraction equipment and has the largest range on the market that includes, Dust Collectors, Fume Extractors, Spray Booths, Rotary Valves, Vehicle Exhaust Hose Reels and many more..
Ezi-Duct can custom design and build a dust extraction systems to meet our customers specific requirements. They are a proud Australian manufacturer and produces its Ezi-Duct Modular Ducting in Australia in one of Ezi-Ducts 3 factories located in Melbourne, Sydney or Brisbane.
Ezi-Duct can have one of their many experienced staff, who are backed up by qualified engineers, visit your factory for free advice on your dust collection requirements.
April 2017