PRODUCTS
Ezi-Duct supplies large turn key Dust Collection and HVAC Systems for new Sydney Pharmaceutical Plant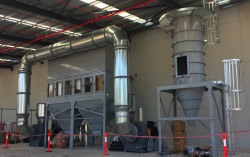 Ezi-Duct is installing a large Polex MDC Dust Collection and a high Vacuum System in a new pharmaceutical plant in Sydney's western suburbs. The huge MDC Dust Collecting System has 2 x 110 kW High Efficiency Fans and the HVAC system has a powerful 132 kW High Vacuum Pump. There are hundreds of outlets in the plant and they are all connected to the Duct Collector systems with Ezi-Duct Modular Ducting and top quality Ezi-Flex Flexible Ducting.
There are also many "Food Grade" Stainless Steel Ezi-Arms installed. The Duct Collector and HVAC Units were powder coated as per our clients requirements and the project looks fantastic.
Ezi-Duct is Australia's leader in Dust Collection and Fume Extraction equipment and has factories, warehouses and offices in Brisbane, Sydney and Melbourne. Ezi-Duct works closely with its associated company Polex Environmental Engineering to provide its customers with the best per-forming and energy efficient equipment at the most economical price.
Jan 2017