PRODUCTS
Ezi-Duct Modular Steel Ducting used in PCA Furniture factory.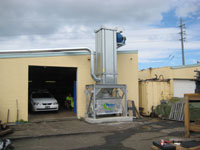 Ezi-Duct recently supplied its modular steel ducting & high quality flexible ducting to a dust collection project installed at PCA Furniture located in Corrimal, NSW. Dust extraction was required due to the fine timber dust generated from several woodworking machines.
The turn key system was designed by Polex Environmental Engineering & supplied and installed a Modular Shaker Bag dust collection system with 4000 m3/h airflow capacity, 20 m2 filter area and an 11 kW centrifugal fan. The waste is discharged into a 3 m2 collection bin positioned under the dust collector.
Polex saved substantial costs for their customer as Ezi-Duct modular steel ducting is so simple, quick and easy to install that the installation time was much less than using conventional ductwork. The advantages for PCA Furniture are also long term because as Ezi-Duct modular steel ducting simply clamps together, the customer can easily pull the system down for cleaning or if a blockage occurs. If PCA Furniture moves or changes its plant layout they can pull down their modular steel ducting & reuse it. Ezi-Duct modular steel ducting also provides the best air flow of any duct on the market and is the natural choice as it has a smooth bore tube with pressed 90 ° bends.
Ezi-Duct Pty Ltd is one of Australia's leading suppliers of dust collection, pollution control, fume extraction and pneumatic convening equipment. Ezi-Duct has offices and agents that service all of Australia and can provide helpful free advise to Customers who whish to modify ,or design and install a new dust or fume collection system. Ezi-Duct carries a large range of products ex-stock at our Auburn Manufacturing plant and warehouse. Ezi –Duct also has an office and warehouse in the Melbourne suburb of Dandenong.
Ezi-Duct also provides the Ezi-Flex product range which is recognised as the Highest quality range of flexible ducting on the world market. Manufactured in Germany, Ezi-Flex is constructed from the latest high quality polyurethane Composite materials on the latest high tech machinery. The Ezi-Flex product Range is also one the largest available in the world.
Ezi-Duct manufactures its ducting in Australia from Australian steel and supplies a huge range of steel ducting and ducting clamps, in galvanised, stainless steel and mild steel.
Ezi-Duct also provides many other products such as:
The largest range of flexible ducting
Ezi-Arm fume arms & fans
A large range of high quality industrial and commercial fans
Rotary valves in both cast and fabricated types
Dust collectors and filters
A large range of filter cartridges
25 June 2010