PRODUCTS
Parramatta Council installs a new Ezi-Duct Self cleaning Dust Collection System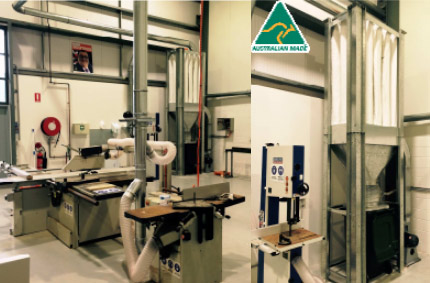 Parramatta Council recently installed a new Ezi-Duct Dust Extraction System for removal of the wood dust and shavings from their timber joinery in their works depot. The Dust Collector and all the equipment supplied was Australian designed & built by Ezi-Duct in their Auburn factory.Supplied in the Dust Collection System was an eCono 4000 fully automatic self cleaning Dust Collector, the Ezi-Duct Modular Steel Ducting System & Ezi-Flex Flexible ducting.
Fitted with an high efficiency, energy saving 4.0 kW fan the eCono 4000 Dust Collector provides suction of up to 4000 m3/h @ 2500pa and deposits the wood waste dust directly into a 240L "wheelie Bin". This helps with OH & S issues of lifting heavy bags and makesdeposing of the waste dust very easy. The Dust Collector automatically cleans its 15 top quality filter bags every time the unit is shut down via a PLC incorporated into the control panel that is supplied with the unit. This guarantees the Dust Collector operates at 100% efficiency the next time the Dust Extraction System is turned on. The dust collector is constructed from Australian corrosion resistant galvanised steel.
Ezi-Duct Modular Steel Ducting simply clamps together saving its customers money by cutting down on installation time and featuressmooth bore pressed bends for improved airflow. The Ducting can also be pulled apart in cases of a blockage or if the customer changes or relocates theirdust collection system. The Ezi-Duct ducting range comes standard in corrosion resistant galvanised steel and is also available in 304 or 316 Stainless Steel material and in heavy wall, fully welded ducting. Unlike its competitors Ezi-Duct is an Australian Manufacturer and manufactures its Modular Steel Ducting in its modern factory located in Auburn NSW.
Ezi-Duct is Australia's leading supplier of Dust Collection Equipment that includes a huge range of Dust Collectors, Fume Extractors, Modular Ducting, Flexible Ducting, Fume Arms,Fans, Spray Booths + much more. We have branches in Melbourne, Sydney & Brisbanethat carry a large amount of products ex stock. Ezi-Duct is a proud Australian Manufacturer and can proudly display the Australian Made logo with pride.
August 2015