PRODUCTS
Ezi-Duct once again Exhibits at National Manufacturing Week 2014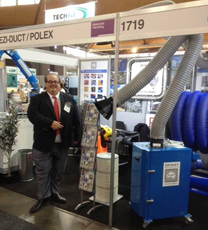 Wayne Dockrill M/D of Ezi-Duct at the Ezi-Duct / Polex Stand NMW 2014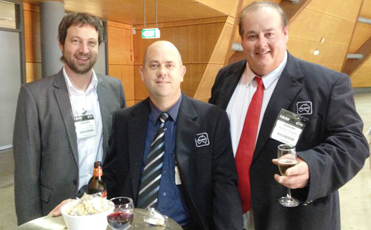 Grant Stevens M/D of Polex, Paul de Villiers Ezi-Duct Victorian Mgr, Wayne Dockrill M/D of Ezi-Duct at the NMW 2014 opening day function
Ezi-duct once again exhibited at the 2014 National Manufacturing week Exhibition located this year at Sydney Olympic Park Exhibition Centre. Wayne Dockrill ( pictured here on the right) said "the show was once again very successful with many customers visiting the Ezi-Duct stand".
On display were the new Ezi-Fume Collector fitted with the flex arm, the largest range of high quality Flexible Ducting from Norres, MDC Cartridge automatic self cleaning dust collector, Emission Control Dust & Fume collector, Vehicle Exhaust Hose Reels + many other products.
Wayne Dockrill , M/D of Ezi-Duct said "As an Australian manufacturer, Ezi-Duct always supports & exhibits at National Manufacturing Week. We have already booked in for next year's NMW 2015 exhibition in Melbourne.
Its very important that in these difficult times for local manufacturers, that we show our support and buy Australian made products".
June 2014