PRODUCTS
Ezi-Duct Pty Ltd Releases New Catalogue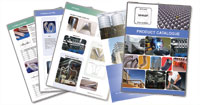 Ezi-Duct Pty Ltd, one of Australia's leading suppliers of dust collection, pollution control, fume extraction and pneumatic conveying equipment has released a new 32 page product catalogue.
The new colour catalogue features all of Ezi-Duct's latest range of products that includes it's huge range of Ducting and Ducting Clamps, in Galvanised, Stainless and Mild Steel.
Also included are
One of the most comprehensive ranges of flexible ducting on the market
A large range of high quality industrial and commercial fans
Rotary valves in both cast and fabricated types
Dust collectors and filters A large range of filter cartridges
A huge range of roof fans & portable ventilators
Many other associated products
Ezi-Duct has offices or agents that cover the entire country and manufactures the majority of its products using Australian Steel. Ezi-Duct's factory is located in Sydney's western suburbs at Auburn & employs many apprentices ensuring the future.
26 November 2007