PRODUCTS
The best Dust Collector for Qld Men's Shed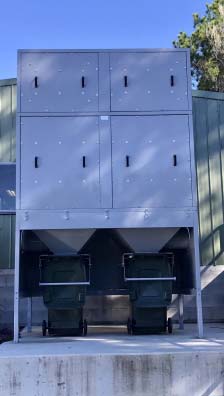 Ezi-Duct, was able to recently provide a dust collection system for a large Queensland Men's Shed.
Around Australia, Men's Sheds have been playing a large role in keeping men healthy by providing a safe and relaxing environment where men can be productive, contribute to the community, connect with friends and maintain an active mind and body. While the backyard shed is becoming more of a rarity nowadays, we luckily have Men's Shed springing up around Australia. It is wonderful to be able to contribute our products to a place which is doing so much for the community.
As Australia's leading company in dust collectors and fume extraction equipment, we installed the Australian designed eCompact 9000 dust collector. This is a compact design which is perfect for saw dust collection in wood working rooms. It can be fitted into small plant rooms or outdoors. The cCompact 9000, has a powerful 15 kW high efficiency fan and operates under negative pressure so no wood chips or dust passes through the fan. The waste is deposited directly into the units two wheelie bin's for easy disposal with no heavy lifting. The dust collector is fabricated from heavy duty galvanized steel, then undercoated and top coated to ensure that it is corrosion resistant and long lasting.
The dust collectors many filter bags are automatically cleaned whenever the unit is switched off via a vibration motor mounted inside the dust collector and controlled by a PLC in the dust collectors control panel.
Ezi-Duct modular ducting was supplied to connect the unit to the facilities many woodworking machines. Ezi-Duct modular ducting provides the best air flow of any ducting on the market for dust extraction and fume extraction systems. Ezi-Duct modular ducting is quick and easy to install and cuts down installation time by 50%. Ezi-Duct has branches and factories in Brisbane Sydney and Melbourne and can send out an experience representative for free to advise on your companies dust extraction or fume extraction requirements.
June 2017