PRODUCTS
Ezi_Duct supplies Ducting and Fume Arms for 4 x Fume Extraction and Dust Extraction Systems in Mackay Coal testing facility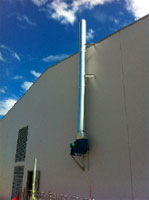 Ezi-Duct recently supplied 100's of meters of galvanised steel modular ducting, pressed bends, ducting clamps, sealed slide dampers, weather cowls plus many other products for 4 large fume extractiona nd Dust Extractions Systems. The fume extractiona nd dust extraction Systems are for a Coal Testing Facility located in the city of Mackay in the north of Queensland. The System also incorporated many Ezi-Arm Fume Arms and the Ezi-Duct Centrifugal Fans suited for the Ezi-Arm Fume Arms
The System also incorporated many Ezi-Arm Fume Arms and the Ezi-Duct Centrifugal Fans suited for the Ezi-Arm Fume Arms. The system was installed by RG Installations. Gary Nalder of RG Installations was very impressed both with the service provide by Ezi-Duct and by how quickly the galvanised steel modular ducting system was installed. As Ezi-Duct galvanised steel modular ducting simply clamps together installation times are cut down by half from drilling pot rivets or welding & bolting flanges on old fashion ducting.
The Ezi-Arm Fume Arms are a range of self articulated fume arms that are carried ex-stock by Eziduct in 3 states. Ezi-duct also carries ex stock a full range of industrial quality centrifugal fans that will complement the Ezi-Arms.

The Ezi-Arm Fume arms the best technical solution for removal of fumes and dust from work places. One of the reasons for this is there are no internal mechanisms that cause disruption in the airflow and can also cause blockages etc.
In addition to the above a large range of Flexible ducting is carried ex-stock. Ezi-Duct is the Australian distributor for Norres Industrial Flexible Ducting .The Norres product range is recognised as the highest quality range of flexible ducting on the world market. Manufactured in Germany, the Flexible Ducting is constructed from the latest high quality polyurethane composite materials on the latest high tech machinery. The product range is also one the largest available in the world Ezi-Duct has offices and agents that service all of Australia and can provide helpful free advice to customers who wish to modify, or design and install a new dust or fume extraction system. Ezi-Duct carries a large range of products ex-stock at our Auburn manufacturing plant and warehouse.
Ezi-Duct also has an offices and warehouses in the Melbourne suburb of Dandenong and the Brisbane suburb of Coopers Plains
8 February 2012