PRODUCTS
Elevator company gives their factory's air quality a lift with Ezi-Duct's equipment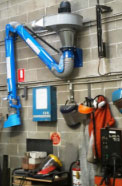 An Australian Company that specialises in elevator refurbishments recently installed an Ezi-Duct Spray booth, an Ezi-Duct Dust Collector and an Ezi-Duct Ezi-Arm in their Sydney based factory. Also installed in the new systems were Ezi-Duct Modular Ducting, Ezi-Flex Flexible Ducting and an Ezi-Duct CBS Hi-Efficiency Fan. The 3 separate systems were all installed by Xtracted - Dust & Fume Services who is an Ezi-Duct contractor and reseller.
The Customer required air filtration for several applications that included spray painting and gluing fumes, timber dust and welding fumes. Ezi-Duct is Australia's leading company in industrial air filtration equipment and was able to provide a solution to all the customers requirements. For the spray painting and gluing fumes application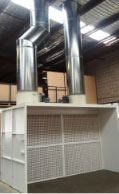 Ezi-Duct provided a 3 mtr filtered dry spray booth. The dry spraybooth has 2 layers of filtration comprising of convoluted cardboard filter with a secondary filter of coslencing air medium. The Spraybooth is fitted with sealed lights and is supplied with the Electrical and compress air control panel. The air capacity of the Spraybooth is 18000 m3/h and thefiltered air is discharged to the atmosphere through stacks on the buildings roof. All Ezi-Duct spraybooths meets the Australian Safety Standards governing Spraybooth design AS 4114.
For the timber saw dust extraction Ezi-Duct supplied an eCono 4000 Dust Collector with Ezi-Duct Modular Ducting and Ezi-Flex Flexible Ducting. The Australian designed and manufactured eCono 4000 Dust Collector is the best value self cleaning dust collector on the market. The eCono 4000 Dust Collector provides powerful suction of up to 4000 m3/h @ 2500 -3000 pa and has a high efficiency, energy saving 4.0 kW fan.
The eCono 4000 Dust Collector automatically cleans it's 15 top quality filter bags fitted in the unit every time the dust collector is shut down with a filter shaker system. This makes the eCono Dust Collector operate at 100% efficiency the next time the Dust Extraction System is used. For the Welding fume application an Ezi-Duct 3.0 M Ezi-Arm was installed connected to a CBS Hi-Efficiency Fan.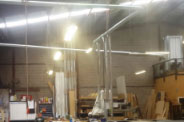 The Ezi-Duct Ezi-Arm is a self supporting suction arm that is the best technical solution for the extraction of fumes & dust. It's design has no internal obstructions that cause turbulence and snag points. The Ezi-Arm can rotate 360 degrees and is designed with an ease of use principle for the operator. This enables for an enormous number of suction hood positions Ezi-Duct is a proud Australian manufacturer and designer of Dust Collectors and other equipment for dust collection and fume extraction. Ezi-Duct has 3 Australian Factories located in Brisbane, Sydney and Melbourne that manufacture and stock the majority of it's quality products.
Ezi-Duct has the largest range of dust collection and fume extraction equipment on the market that includes, Dust Collectors, Fume Extractors, Spray Booths, Rotary Valves, Vehicle Exhaust Hose Reels and many more. Ezi-Duct can custom design and build a dust extraction systems to meet our customers specific requirements. Ezi-Duct can have one of their many experienced staff , who are backed up by qualified engineers ,visit your factory for free advice on your dust collection requirements.
April 2017