PRODUCTS
Money Saving Dust Collection System iinstalled at Lambert Kitchens Factory on the NSW South Coast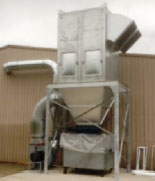 Lambert Kitchens is a south Coast manufacturer of top quality kitchens. When they decided to upgradetheir Dust Collection System in their Unanderra factory they came to Ezi-Duct. Lambert Kitchens havemany machines connected to the system including a CNC point to point router & a large CNC EdgeBander. The Dust Collector was a Polex MDC24000S self cleaning Dust Collector, with Ezi-DuctModular, Flexible Ducting & a Rotary Valve. The new Dust Collector provides suction upwards of 24000m3/h @ 3000 pa & the waste is directly dumped into a 3 m3 bin. This equated to big savings labourcosts as there is no need to switch the unit off and labour is kept to a minimum when emptying the bin.
The unit is also supplied with a Polex Variable speed Drive Controller orVSD. The VSD is supplied with a pressure transducer that will sense andautomatically turn the power consumption of the fan motor down whenone or more of the machines is not in use. This equates to big savingson power consumption. Lambert Kitchens is very happy with theperformance of the unit, the ducting & the service they received fromEzi-Duct and Polex Environmental Engineering.
Ezi-Duct is Australia's leading supplier of Dust Collection Equipment that includes a huge range of DustCollectors, Modular Ducting, Flexible Ducting, Fume Arms Fans, Spray Booths + much more. We havebranches in Melbourne, Sydney & Brisbane that carry a large amount of products ex stock.
August 2013