PRODUCTS
Ezi-Duct & Ezi-Flex installed for 12 head Weinig Molder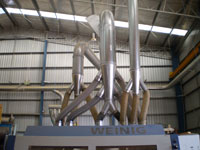 Ezi-Duct Pty Ltd , one of the leading suppliers in dust collection, pollution control, fume extraction and pneumatic convening equipment in Australia has supplied several of its products to a well establish joinery in the South Western Suburbs of Sydney.
The company have installed , Ezi-Duct , Ezi-Flex plus many manifolds & fittings and are both extremely happy with the high quality of products backed up by Ezi-Ducts fantastic service.
The Ezi-Flex product range is recognised as the highest quality range of flexible ducting on the world market. Manufactured in Germany, Ezi-Flex is constructed from the latest high quality polyurethane composite materials on the latest high tech machinery. The Ezi-Flex product range is also one the largest available in the world.
Wayne Dockrill said "Ezi-Duct has offices and agents that service all of Australia and can provide helpful free advise to customers who whish to modify ,or design and install a new dust of fume collection system".
Ezi –Duct carries a large range of products ex-stock at our Auburn manufacturing plant and warehouse. Ezi –Duct also has an office and warehouse in the Melbourne suburb of Dandenong.
10 February 2009