PRODUCTS
Ezi Job for Hardman Joinery by self installing Ezi-Duct Modular Ducting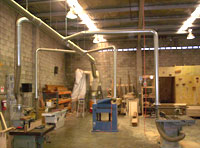 Ezi-Duct Pty Ltd, one of the leading suppliers in dust collection, pollution control, fume extraction and pneumatic conveying equipment in Australia supplied a dust collection system to Hardman Joinery located in Botany NSW. Allen of Hardman Joinery said "we cut our costs considerably as Ezi-Duct modular ducting was so simple, quick and easy to install that we did the installation in-house ,without the need for outside contractors" Allen was very happy with the high quality of products & services provided by Ezi-Duct.
The advantages for Hardman Joinery are also long term because as Ezi-Duct ducting simply clamps together, the customer can easily pull the system down for future expansion or if a blockage occurs. Ezi-Duct ducting also provides the best air flow of any duct on the market and is the natural choice as it has a smooth bore tube with pressed 90º bends.
The Ezi-Flex product range is recognised as the highest quality range of flexible ducting on the world market. Manufactured in Germany, Ezi-Flex is constructed from the latest high quality polyurethane composite materials on the latest high tech machinery. The Ezi-Flex product range is also one the largest available in the world.
Wayne Dockrill of Ezi-Duct said "Ezi-Duct has offices and agents that service all of Australia and can provide helpful free advise to customers who wish to modify ,or design and install a new dust of fume collection system". Ezi –Duct carries a large range of products ex-stock at our Auburn manufacturing plant and warehouse .Ezi –Duct also has an office and warehouse in the Melbourne suburb of Dandenong.
Ezi-Duct manufactures its ducting in Australia from Australian steel and supplies a huge range of ducting and ducting clamps, in galvanised, stainless steel and mild steel.
Ezi-Duct also provides many other products such as:
The largest range of flexible ducting Ezi-arm fume arms & fans
A large range of high quality industrial and commercial fans
Rotary valves in both cast and fabricated types
Dust collectors and filters
A large range of filter cartridges
11 February 2009