PRODUCTS
Ezi-Duct supplies many 1000's of mtrs of its 500 mm dia. Modular Ducting and Flexible Ducting to the Sydney Harbour Bridge used for Dust Collection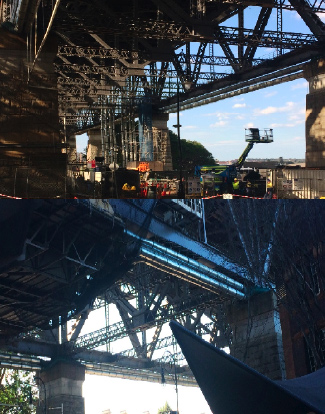 Ezi-Duct is very proud to supply the legendary Australian icon "The Sydney Harbour Bridge"with many 1000's of mtrs of its Modular Steel Ducting, Bends, Ducting Clamps & Flexible Ducting. Most of the duct which is supplied by Ezi-Duct is in 500 mm dia.
Ezi-Duct's association with the Sydney Harbour Bridge goes back many years and our products are used for the Dust Collection of the waste that is generated from cleaning the old paint from the bridge's steel structure. Ezi-Duct Ducting is very easy to install when a section is done Ezi-Duct ducting is easy to pull down again and is reusedin other area's of the bridge saving time and money.
Ezi-Duct is a proud Australian company and manufactures it's ducting in Australia with Steel suppliedby Australian companies. Ezi-Duct Modular Ducting & Ezi-Flex Flexible Ducting are carried ex-stock inEzi-Ducts 3 branches located in Sydney, Melbourne & Brisbane along with 1000's of other Ezi-Duct'sDust Collection & Fume Collection products. Ezi-Duct is Australia's leading company in DustCollection, Fume Extraction and mechanical ventilation equipment & manufactures the majority of itsproducts in Australia. Ezi-Duct manufactures Australia's largest range Dust Collectors, FumeExtractors, Fume Arms, Filters, Rotary Valves and Cyclones. Ezi-Duct is also the Australian agent forNorres the world's highest quality flexible ducting manufacture.
August 2014