PRODUCTS
Ezi-Duct installs ducting at the Sydney Harbour Bridge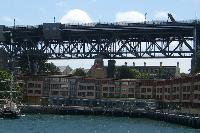 Ezi-Duct, one of the leading suppliers of dust collection, pollution control, fume extraction and pneumatic convening equipment has supplied a large amount of ducting installed at the Sydney Harbour Bridge.
In what must be one of the large painting jobs in Australia the RTA crew must first abrasive blast the old lead based paint away from the steel structure.
The ducting is used as part of a large dust extraction system to ensure that no dust escapes into the environment.
The RTA crew selected the Ezi-Duct ducting for several reasons:
It is quick to install
Can be taken down and reused when they move to another work area
It is economical to purchase
Ezi-Duct is an Australian manufacturer using Australian steel
Ezi-duct can supply product reliably at a high quality level
The NSW Roads and Traffic Authority has purchased many 100 of meters of 500 mm diameter galvanised steel ducting, bends, clamps, flexible duct and hanging brackets.
Ezi-Duct manufactures and supplies, ex-stock, a huge range of galvanised steel ducting to complement their standard range. Ezi-Duct also supplies stainless steel and heavy-duty steel ducting and ducting clamps.
Ezi-Duct also provides many other products such:
One of the comprehensive range of flexible ducting on the market
A large range of high quality industrial and commercial fans
Rotary valves in both cast and fabricated types
Dust collectors and filters
A large range of filter cartridges
Many other associated products
Ezi-Duct has offices or agents that cover the entire country.
28 June 2007