PRODUCTS
70 year old Aussie Manufacturer upgrades to the Ezi-Arm for their Welding fume extraction

A very successful 70 year old Australian Manufacture based in Sydney's South Western Suburbs had an issue with their welding fume extraction and they contacted Ezi-Duct for the solution. Ezi-Duct sent out an experienced team member who designed, supplied and had installed a Welding Fume Extraction System. The new System included 6 x Ezi-Duct Ezi-Arm Fume Arms. Also installed was several CBS Hi Efficiency Centrifugal Fans and Ezi-Duct Modular Ducting.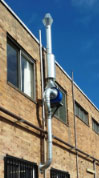 The new Welding fume extraction system was installed by Xtracted - Dust & Fume Services who is an Ezi-Duct contractor and reseller.
The Ezi-Duct Ezi-Arm is a self supporting suction arm that is the best technical solution for the extraction of fumes & dust. It's design has no internal obstructions that cause turbulence and snag points. The flexible ducting has been kept to a minimum due to the high friction loss and wear possibilities associated with this product. The Ezi-Arm comes in 3 models 2.2 mtr, 3.0 mtr and the big 4.6 mtr model. All are 150mm in diameter and are supplied with a wall mounting bracket and damper. All model Ezi-Arms are carried ex-stock in the 3 Ezi-Duct branches located in Melbourne, Sydney and Brisbane. The Ezi-Arm can rotate 360 degrees and is designed with an ease of use principle for the operator. This enables for an enormous number of suction hood positions. They are ideal for many applications that include the removal from workers faces of welding fumes, sanding dust, odours and other harmful dust and fumes.
Ezi-Duct is Australia's leader in the field of Dust Collectors & Fume Extraction equipment and has the largest range on the market that includes, Dust Collectors, Fume Extractors, Spray Booths, Rotary Valves, Vehicle Exhaust Hose Reels and many more. Ezi-Duct can custom design and build a dust extraction systems to meet our customers specific requirements. Ezi-Duct can have one of their many experienced staff, who are backed up by qualified engineers, visit your factory for free advice on your dust collection requirements.
April 2017