PRODUCTS
Ezi-Duct supplies an eCono 4000 self cleaning Dust Collector with Ducting into Melbourne based manufacturer of solid timber furniture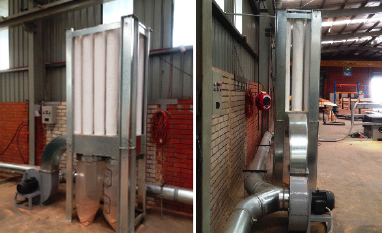 Other Dust Collectors will lose up to 60% of their Suction when the bags are caked with dust. The eCono 4000 Automatically self cleans its filter bags every time the unit is turned off
Xilo is a Melbourne based manufacturer of quality, purpose made solid timber furniture and is based in Hoppers Crossing. They recently installed an Ezi-Duct eCono 4000 self cleaning 4.0 kW Dust Collector, Ezi-Duct modular ducting and Ezi-Flex Flexible Ducting in their Melbourne factory. Xilo installed the Ezi-Duct Dust Collection system in-house saving big $$$$
Xilo Director, Jim Barbounis said that He is happy with the unit and the feature of a strong shaker motor to clean the filter socks. He says that you can see the dust falling out the bags when it starts shaking during the cleaning cycle. He also said "The plastic waste bags are easy to install."
The eCono 4000 is the best value for money dust collector on the market. It has a large filtration area of top quality filter material that automatically self cleans its 15 top quality filter bags every time the unit is turned off. There is a engineered seal system that not only prevents leakage from the waste bags but makes them very easy to remove & install. The eCono 4000 Dust Collectors are carried ex-stock in Ezi-Ducts 3 branches in Melbourne, Sydney & Brisbane along with 1000's of other Ezi-Duct's Dust Collection & Fume Collection products.
Ezi-Duct is Australia's leading company in Dust & Fume Collection and mechanical ventilation equipment & manufactures the majority of its products such as the eCono 4000 Dust Collector in Australia Ezi-Duct manufactures the largest range Dust Collectors , Fume Extractors, Fume Arms, Filters, Rotary Valves and Cyclones. Ezi-Duct is also the Australian agent for Norres the worlds highest quality flexible ducting manufacture.
August 2014