PRODUCTS
Ezi-Duct supplies Modular Ducting and Ezi-Arms Fume Arms for Dubbo Technical Trade Centre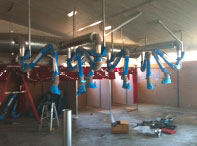 Ezi-Duct recently supplied galvanised steel modular ducting, pressed bends, ducting clamps, weather cowls plus many other products for a Fume Extraction System. The Fume Extraction System was installed at the Dubbo Technical Trade Centre in western NSW. The System also incorporated many Ezi-Arm Fume Arms.
The Ezi-Arm Fume Arms are a range of self articulated fume arms that are carried ex-stock by Ezi-duct in 3 states. Ezi-Duct also carries ex stock a full range of industrail quality centrifugal fans that will complement the Ezi-Arms. The Ezi-Arms Fume Arms are the best technical solution for removal of fumes and dust from work places. One of the reasons sfor this is there are no internal mechanisms that cause disruption in the airflow and can also cause blockages etc.
The system was installed by Almax Ducting & Plumbing. George Freitas of Almax Ducting and Plumbing was very impressed both with the service provide by Ezi-Duct and by how quickly the galvanised steel modular ducting system was installed . As Ezi-Duct galvanised steel modular ducting simply clamps together installation times are cut down by half from drilling pot rivets or welding & bolting flanges on old fashion ducting.
8 February 2012