PRODUCTS
Ezi-Duct introduces new range of Diverter Valves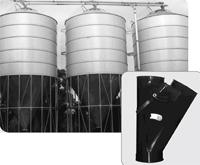 Ezi-Duct, one of the leading suppliers in dust collection, pollution control, fume extraction and pneumatic convening equipment in Australia has released a new range of Diverter Valves.
The new Diverter Valve is an Australian designed product produced at Ezi-Duct's New Auburn factory.
According to Ezi-Duct, they recognised the need from its customers for a new diverter valve. Many imported Diverter valves currently sold in Australia have a 60 degree take off from the main line and have no proper seals inside the valve. Many customers and engineers have complained over the last10 years for the need of a better designed Diverter Valve.
Ezi-Duct, which supplies a large of range of modular ducting, ducting clamps, flexible ducting went to the drawing board and has come up with Diverter Valves. The Diverter Valve has a 30 degree take off for minimal air friction loss and comes standard with internal rubber seals. Being totally round in construction it has eliminated the need for having the 3 square to round transitions on tractional fabricated Diverter Valves. This ensures a smoother internal finish for better product flow.
The Diverter Valves come in a huge range of sizes and are supplied in either a mild steel painted finish or in stainless steel. The Diverter Valves can be supplied with a hand operated lockable lever, a pneumatic cylinder or an electric motor fitted for operation.
15 February 2007