PRODUCTS
Ezi-Duct at the 2014 AWISA Exhibition Brisbane Exhibition center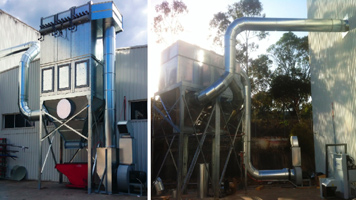 Ezi-Duct is in the process of installing a large Dust Collection System into one of Australia leading Joinery Works located on the NSW Central Coast. Ezi-Duct supplied & manufactured 1 x 45 kW Polex MDC36000 P Dust Collector and 1 x 37KW Polex MDC24000 P Dust Collector, Ezi-Duct Rotary Valves, Ezi-Duct Modular Ducting & Fitting + Ezi-Flex Flexible Ducting
Both units are supplied with a VSD ( variable speed drive) to save energy costs and Rotary Discharge Valves so the customer can empty the waste bins without turning the units off.
The Dust Collectors are manufactured from heavy duty corrosion resistant galvanised steel sheet.
Both the Dust Collectors units are fitted with high efficiency fans and work under negative pressure so no wood dust or chips passes through the fan. They are fitted with top quality anti static needle felt filter bags that are cleaned continually and automatically with reverse pulse action.
Ezi-Duct is Australia's leading company in Dust Collection ,Fume Extraction and mechanical ventilation equipment & manufactures the majority of its products in Australia.
Ezi-Duct Dust Collectors, Modular Ducting & Ezi-Flex Flexible Ducting are carried ex-stock in Ezi-Ducts 3 branches located in Brisbane, Sydney & Melbourne along with 1000's of other Ezi-Duct's Dust Collection & Fume Extraction products.
Ezi-Duct manufactures Australia's largest range Dust Collectors, Fume Extractors, Fume Arms, Filters, Rotary Valves and Cyclones. Ezi-Duct is also the Australian agent for Norres the worlds highest quality flexible ducting manufacture.
August 2014