PRODUCTS
Ezi-Duct getting ready for the AWISA Exhibition 2014 Brisbane Exhibition Centre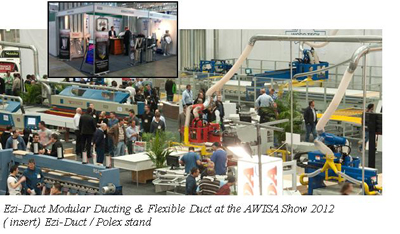 Ezi-Duct will once again be exhibiting at the 2014 AWISA Exhibition located this year at Brisbane Exhibition Centre. Wayne Dockrill of Ezi-Duct said "I have been at the AWISA Exhibition since its inception at the Yennora Woolsheds in 1988. The AWISA Exhibition has grown into Australia's Premier Trade Exhibition with a huge number of exhibitors and attended by thousands of visitors."
Ezi-Duct / Polex stand 2101 will have on display the new MDC18000 S Dust Collector, an eCono 6000 HRV Dust Collector, an eCono 4000 Dust Collector and a eCompact 3000 Dust Collector. The Ezi-Duct Range of smoothbore Modular Ducting, the largest range of high quality Flexible Ducting on the Australian market from Norres, an Emission Control Dust & Fume collector, Rotary Valves and many other products.
Wayne Dockrill, M/D of Ezi-Duct said "As an Australian manufacturer Ezi-Duct always supports & exhibits at the AWISA Exhibition. It is very important to support local Australian companies and local manufacturers."
June 2014