PRODUCTS
Ezi-Duct displays it's products at AHR Exhibition 2017, Las Vegas USA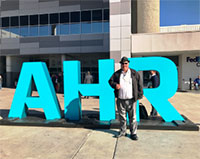 Once again Ezi-Duct had its Aussie products on display with its USA Agents at the International Air-Conditioning, Heating, Refrigerating Exposition (AHR Expo), The AHR Exhibition started 86 years ago as a heating and ventilation show, has grown into the event of the year for the HVACR industry. The 2017 Show was held in Las Vegas, hosting more than 2,000 exhibitors and attracting crowds of over 65,000 industry professionals from every state in America and 165 countries worldwide. The Show provides a unique forum for the entire HVACR community to come together and share new products, technologies, and ideas.
Ezi-Duct with its sister company Polex Environmental Engineering is Australia's leading & largest organisation in the field of Dust Collection and Fume Extraction equipment. This year Ezi-Duct is celebrating our 20th birthday and has many 1000's of happy customers. Ezi-Duct have supplied dust collection & fume extraction systems ranging from large projects to the world's leading multinational companies to small systems for owner operators.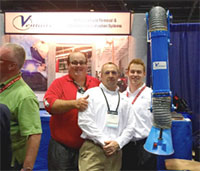 Ezi-Duct & Polex are 100% Australian owned & operated but supply its products globally. We have 3 Australian branches in Victoria, NSW & QLD and each has its own factory producing the majority of our product in Australia. Ezi-Duct works with its sister company Polex Environmental Engineering strive to design the world's best performing and most energy efficient Dust Collection & Fume Extraction products. Ezi-duct products have been engineered & designed in Australia by a 100% Australian team with decades of industry experience. They are designed to meet Australia's strict OHS and clean air / clean air environmental regulations.
Celebrating its 20th Birthday Ezi-Duct will be offering great deals on its huge range of quality Australian designed Dust Collection and Fume Extraction products. You can visit Ezi-Duct at the NMW 2017 held in the Melbourne Exhibition Centre on 9th - 12th May Stand: 1920 or call one of its 3 Branches in Melbourne, Sydney or Brisbane.
Jan 2017