PRODUCTS
FITTINGS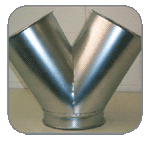 All Ezi-Duct fittings are designed and manufactured using the latest computer controlled design and cutting equipment. This ensures that all our fittings are extremely accurate and of the highest quality.
Standard Fittings are manufactured from a minimum of 1.0mm galvanised steel supplied from B.H.P.
All Fittings come standard with Ezi-Duct ends for quick assembly using Ezi-Duct Clamps.
On all Branch Pieces,Y Pieces and Manifolds the take off angle comes standard @ 300 for optimal airflow.
Ezi-Duct can manufacture fittings in galvanised, mild or stainless steel and in whatever material thickness is required. When ordering a fitting please quote the A, B & C measurements and length (If required)

BRANCH PIECES
Y PIECES
REDUCING CONES
SQUARE TO ROUND
TRANSITIONS
DUCT ENTRIES
MANIFOLDS
T PIECES