PRODUCTS
Temora Catholic High School Installs a new high efficiency Dust Collection System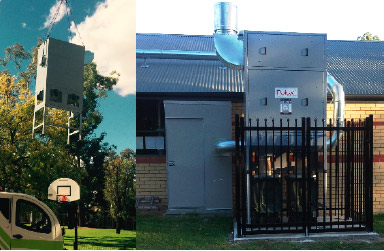 Temora is a regional town located in the north-east of the Riverina area of New South Wales. Their Catholic High School recently installed a new Ezi-Duct Dust Extraction System for removal of the wood dust and shavings from the industrial arts woodworking classrooms
Equipment supplied included an Australian designed Polex eCompact 6000 fully automatic self cleaning Dust Collector, the Ezi-Duct Modular Steel Ducting System & Ezi-Flex Flexible ducting.
The Polex eCompact 6000 Dust Collector provides suction of 6000 m3/h @ 3000 pa and works under negative pressure so no "dirty air" passes through the high efficiency, energy saving 7.5 kW fan.
The Dust Collector automatically cleans its many top quality filter bags every time the unit is shut down via a PLC incorporated into the control panel that is supplied with the unit. This guarantees the Dust Collector operate at 100% efficiency the next time the Dust Extraction System is turned on .
Polex has designed the eCompact 6000 Dust Collector to deposit the waste wood dust & shavings directly into 2 x 240 L "Wheelie Bins". This will ensure ease of operation and will help eliminate any risk of OH & S issues associated with emptying the waste bins. This makes removing the waste from the Dust Collector very easy with no heavy lifting required.
Ezi-Duct is Australia's leading supplier of Dust Collection Equipment that includes a huge range of Dust Collectors, Modular Ducting, Flexible Ducting, Fume Arms Fans, Spray Booths + much more. We have branches in Melbourne, Sydney & Brisbane that carry a large amount of products ex stock. Ezi-Duct is a proud Australian Manufacturer
June 2015