PRODUCTS
Ezi-Duct supplies Ezi-Arms for Welding Fume Extraction & Custom Mobile Hoods for Grinding Dust Extraction for the John Heine & Sons Sydney Factory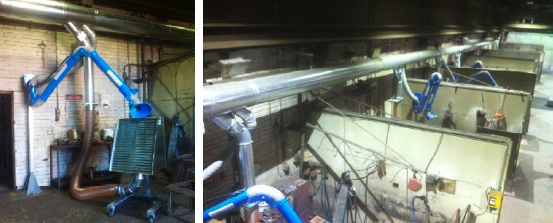 Legendary Australian machinery manufacturer John Heine & Sons located in Sydney's south western suburb of Bankstown recently installed 5 x Ezi-Duct Fume Extraction Ezi-Arms for the extraction of welding fumes and 5 x special mobile hoods for the for the collection of grinding dust. The Ezi- Arm Fume Arm is the best Fume Arm on the market with no internal obstructions to ensure the best possible airflow. It comes complete with a wall bracket & a damper fitted & is available in 2.2 mtr, 3.0 mtr & 4.6 mtr versions.
Ezi-Duct custom built the 5 mobile extraction hoods in its Auburn Factory with consultation with the engineers at John Heine. They are connected to the Dust Collector main duct line using Ezi-Flex flexible ducting. The 5 bays are connected to the Dust Collector with Ezi-Duct Modular Ducting. The System was installed by Ezi-Duct.
Ezi-Duct Ezi-Arm Fume Arms, Modular Ducting & Ezi-Flex Flexible Ducting are carried ex-stock in Ezi-Ducts 3 branches located in Melbourne, Sydney & Brisbane along with 1000's of other Ezi-Duct's Dust Collection & Fume Collection products.
Ezi-Duct is Australia's leading company in Dust Collection, Fume Extraction and mechanical ventilation equipment & manufactures the majority of its products in Australia. Ezi-Duct manufactures Australia's largest range Dust Collectors, Fume Extractors, Fume Arms, Filters, Rotary Valves and Cyclones.
Ezi-Duct is also the Australian agent for Norres the worlds highest quality flexible ducting manufacture.
August 2014